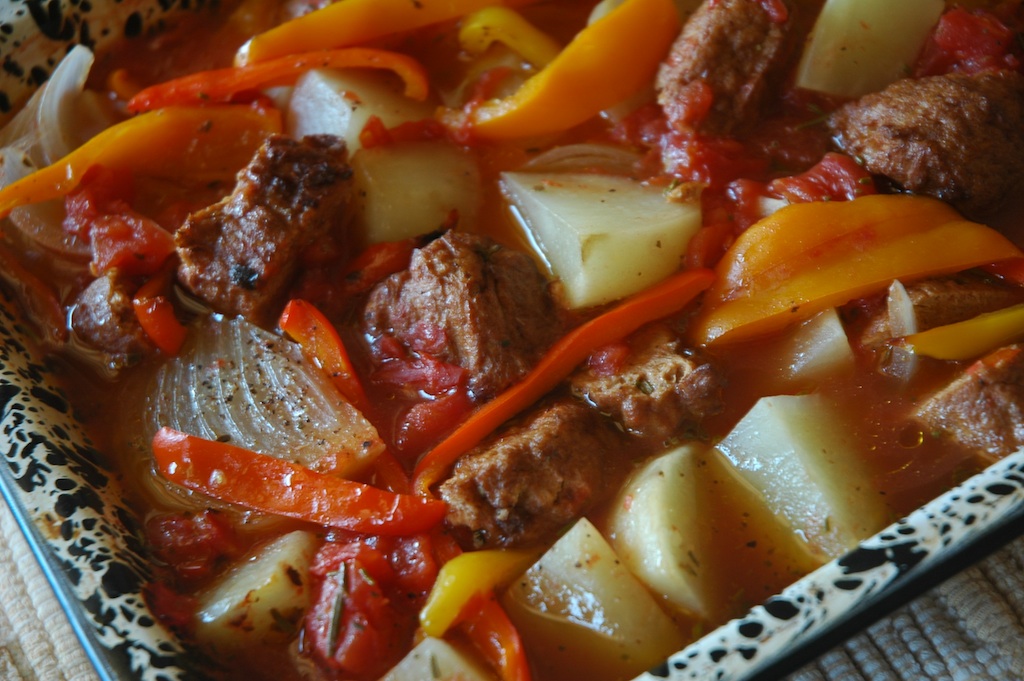 This easy one-dish meal is a hearty oven-baked stew. It features a vegetarian product that closely resembles chicken in flavor and texture, Worthington FriChik. Serves 4-5. Prep: 10 minutes. Cooking time: 50 minutes. Total time: 1 hour.
Ingredients:
1 (13 oz) can Worthington FriChik Original
3 medium potatoes
1 (14.5 oz) can diced tomatoes
1 medium bell pepper
1 medium onion
1 Tbsp olive oil
1 Tbsp lemon juice
1 tsp rosemary
1/2 tsp oregano
1/2 tsp salt
1/8 tsp pepper
Directions:
Preheat oven to 375 degrees F.
Reserving the packing broth, cut the FriChik pieces into thirds.
Peel the potatoes and cut them into 1-inch pieces.
Remove seeds and membranes from bell pepper, and cut into thin strips. Peel onion and cut into 8 wedges.
Place FriChik and its broth in an 11 x 7 x 2 inch baking dish. Add potatoes, diced tomatoes with juice, peppers, onions, olive oil, lemon juice, rosemary, oregano, salt and pepper. Stir this mixture in the baking dish.
Cover tightly with aluminum foil and bake 50 minutes, or until the potatoes are tender. Serve in shallow bowls with hearty whole grain bread.
*I have enjoyed FriChik for many years. Recently Atlantic Natural Foods sent me samples of their latest products, and I have used them in this recipe.