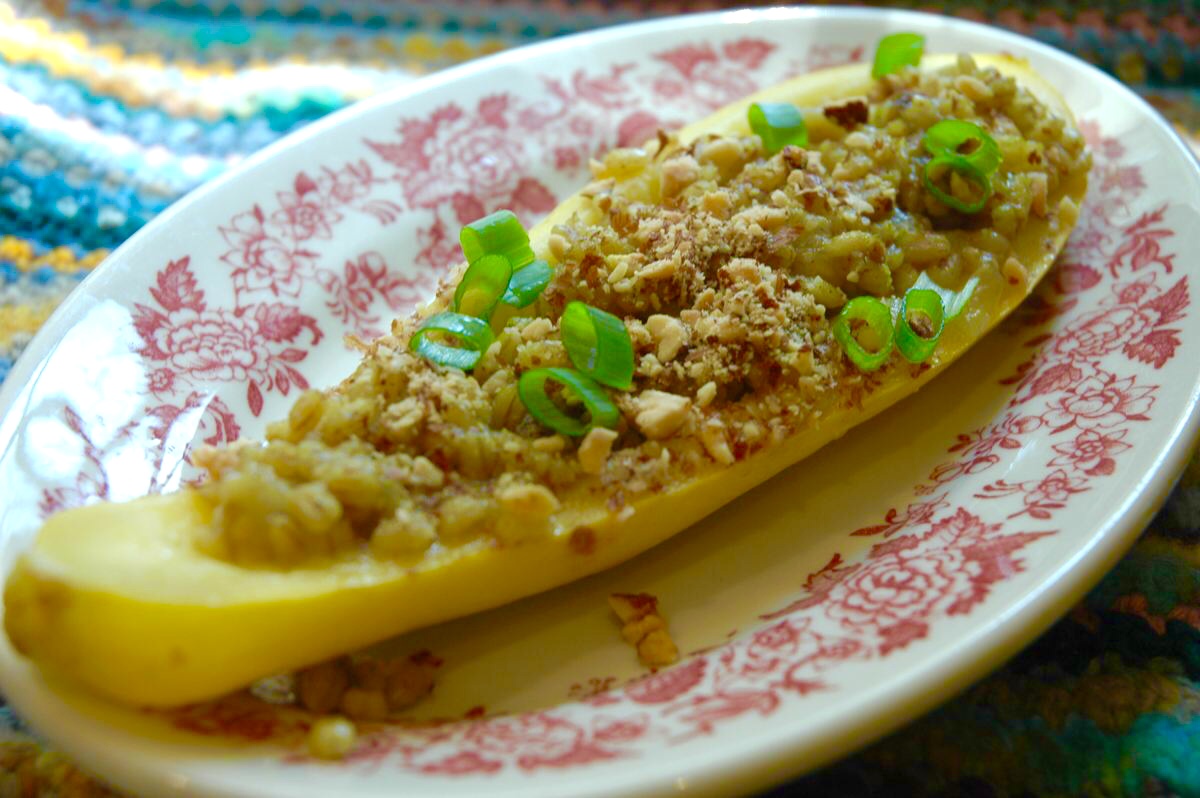 This tasty dish is fit for company. Pair it with baked potatoes or sweet potato fries.
Serves 4-6.
Ingredients:
3 medium yellow squashes (about 2.5 lb altogether)
4 Tbsp butter
1 c diced onion
3/4 c pearled barley
1/4 tsp ground allspice
1/4 tsp ground coriander
1/8 tsp ground turmeric
1/4 tsp salt
3 c vegetarian chicken-style broth
1/4 c chopped raw almonds
2 Tbsp minced parsley or sliced green onions (optional)
Directions:
Place washed squashes in a pot of water. Bring to boil, cover, reduce heat. Simmer 10 minutes, or until fork tender.
Cool squashes. Cut each in half lengthwise. Scoop out seeds and invert shells briefly to drain. Place shells in oiled baking dish(es).
In a medium, heavy pot, melt butter on medium low heat. Add onion and cook 5 minutes, stirring frequently.
Add barley and saute 4 minutes, stirring constantly.
Add allspice, coriander, turmeric and salt. Pour in the broth.
Once the mixture is boiling, cover, reduce to lowest setting, and simmer 40 minutes. Stir and scrape bottom of pan twice during cooking time.
Fluff barley and stir in half of the almonds. Stuff each squash shell with the barley mixture. Top with remaining almonds.
Bake in preheated 350 degree F oven for 15 minutes or until heated through.
Sprinkle with parsley and serve hot.