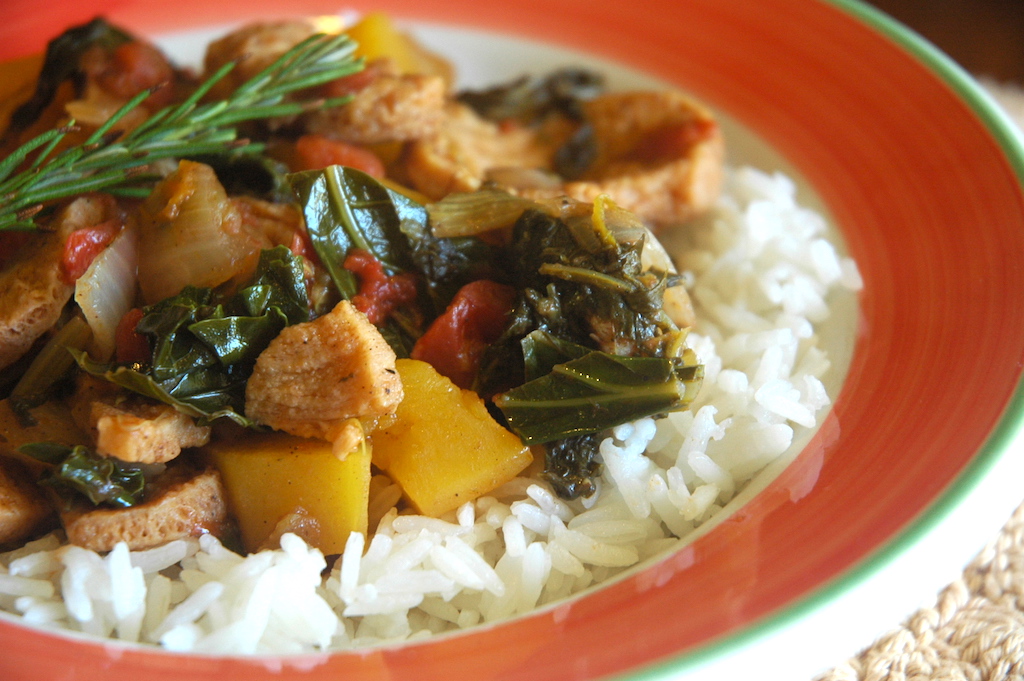 With Autumn only weeks away, I hope you enjoy this recipe. It makes a complete vegan meal in about 40 minutes! I used Dixie Diners' Club Chicken (Not!) Strips for the TVP chunks, but other brands are good too.
Serves 4-5.
Ingredients:
1 c TVP Chicken Flavored Chunks (Textured Vegetable Protein)
1 c boiling water
1 Tbsp chicken broth mix
2 Tbsp olive oil
1 medium onion, chopped
1/4 tsp ground ginger
1/4 tsp allspice
1/4 cinnamon
2 c butternut squash, peeled, diced (1/2″ pieces)
2 c chopped kale or other tender greens
1(15 oz) can chopped or diced tomatoes
1 Tbsp packed brown sugar
1/2 Tbsp minced cilantro or other fresh herbs
1/2 tsp salt
Directions;
Soak TVP in boiling water and chicken broth mix for 15 minutes.
In a large, heavy pot over medium heat, warm the oil; sauté the onion 3-4 minutes.
Stir in the ginger, allspice, and cinnamon; sauté another minute.
Add TVP with soaking liquid, squash, kale, tomatoes, brown sugar, cilantro, and salt.
Bring back to simmer, reduce heat to low, and cover. Cook 20 minutes or until squash is just tender, yet firm.
Serve over cooked rice.