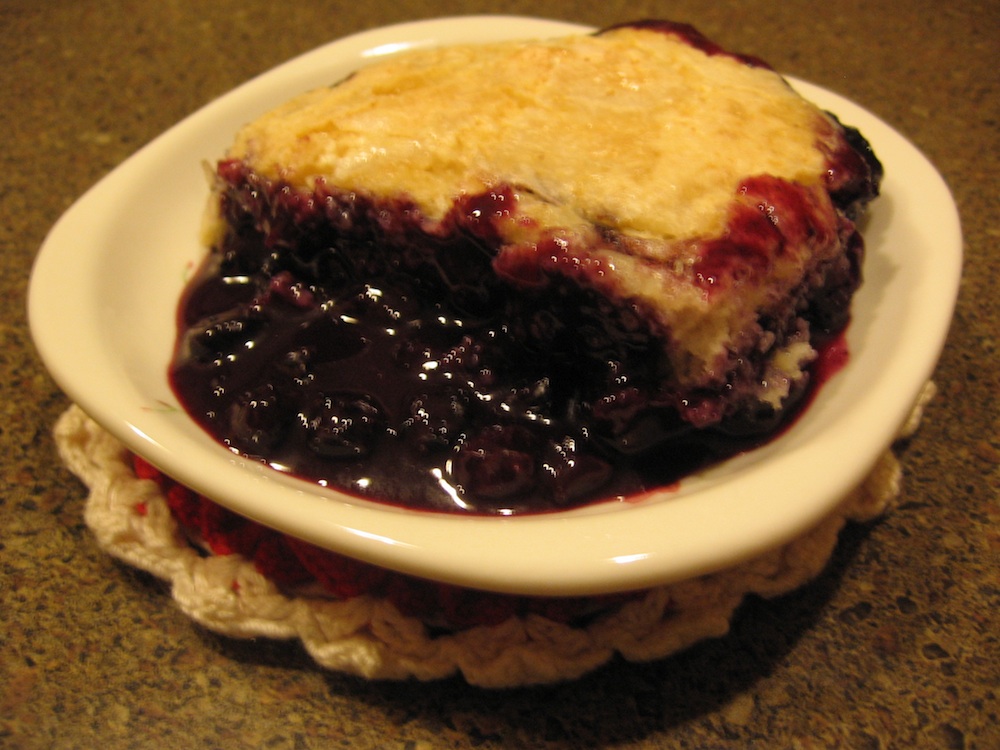 This is an unusual recipe in that it calls for pouring boiling water over the cake batter. It actually turns out to be very good and quite easy to make.
Serves 9.
Ingredients:
Cake:
3 c fresh or frozen blueberries (Do not thaw.)
2 tsp ground cinnamon
2 tsp lemon juice
1 c all-purpose flour
1/2 c sugar
1 tsp baking powder
1/2 c milk
3 Tbsp butter, melted
Topping:
1/2 c sugar
1 Tbsp cornstarch
1 c boiling water
Directions:
Preheat the oven to 350 degrees F.
Mix the blueberries with cinnamon and lemon juice (breaking up any clumps with a knife if using frozen berries)
Place in a greased 11 x 6 x 2 inch baking dish.
In a small bowl, combine the flour, sugar and baking powder; stir in milk and butter.
Spoon over berries as evenly as possible.
Combine sugar and cornstarch; sprinkle over batter.
Slowly pour boiling water over all.
Bake for 45-50 minutes or until a toothpick inserted into the cake portion comes out clean. Serve warm.