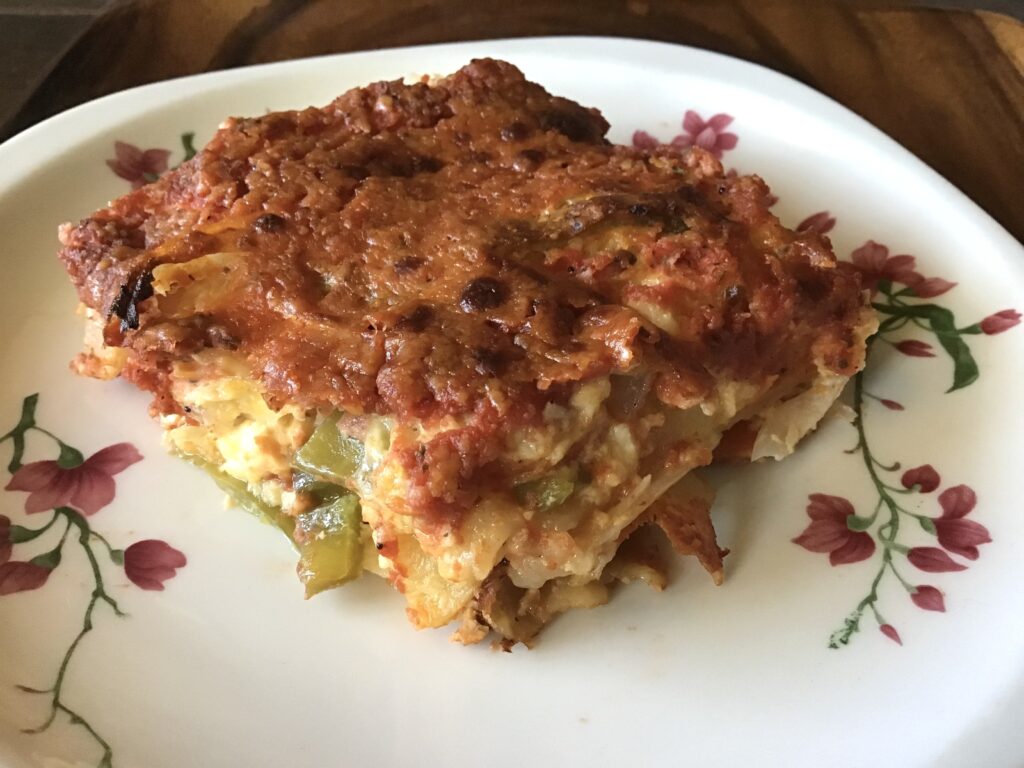 No need to buy a lot of expensive, high calorie ingredients for this simple, everyday lasagna. It tastes great and is easy to make.
Serves 4-5.
Ingredients:
6 oven-ready lasagna noodles, uncooked
1 (15 oz) can tomato sauce
1 1/2 Tbsp dry Italian salad seasoning mix (*For homemade version, see below.)
2 eggs, lightly beaten
1 c plain yogurt
1/8 tsp nutmeg
2 c shredded melting cheese
1 medium green bell pepper cut in strips
1 medium carrot, thinly sliced (1/8″)
1/2 medium onion, thinly sliced
1/3 c grated Parmesan cheese
Directions:
Preheat oven to 375 degrees F.
In a medium bowl, stir together the tomato sauce and Italian salad seasoning mix.
In another medium bowl, blend together the eggs, yogurt, nutmeg and shredded melting cheese.
Spoon a little of the tomato sauce over the bottom of an 11 x 7 x 2 inch baking dish.
Add 3 of the lasagna noodles.
Scatter half of each vegetable on top.
Spoon half of the yogurt mixture over the vegetables, spreading well.
Add 3 more noodles, the remaining veggies, and the remaining yogurt mixture.
Top with remaining tomato sauce. Sprinkle evenly with Parmesan cheese.
Cut a sheet of aluminum foil large enough to cover the dish. On the duller side of the foil, spread olive oil evenly on the part that will touch the cheese. Place it securely over the dish.
Bake 45 minutes, remove foil, and bake uncovered 30 minutes more.
Allow to rest 10 minutes before serving.
*Italian Salad Seasoning Mix:
Ingredients:
1 tsp garlic powder
1 Tbsp onion powder
1 Tbsp oregano
1 Tbsp marjoram
1 Tbsp dried parsley
1 tsp dried basil
1/2 tsp dried thyme
1 Tbsp sugar
1 Tbsp salt
1 tsp ground black pepper
1/2 tsp red pepper flakes
Directions:
Blend all in a jar with a tight fitting lid. Shake well before use. (Great in a vinaigrette dressing!)