A combination of Eggplant Parmesan and Tradional Lasagna, this is an easy, economical, and tasty dinner entree.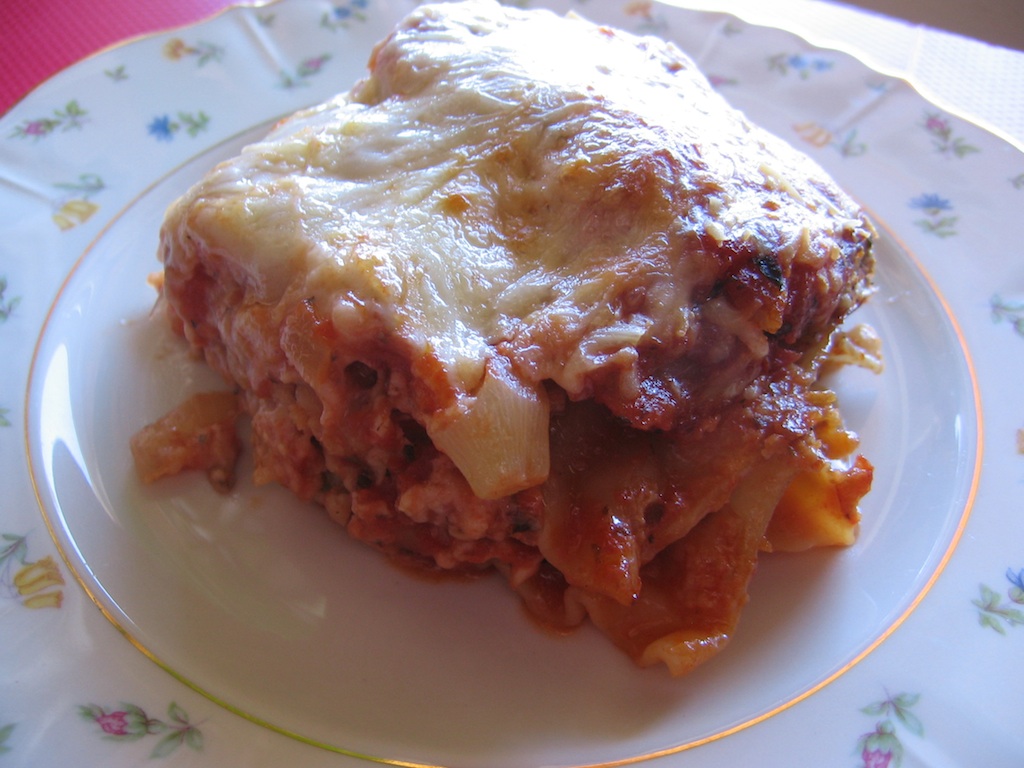 Serves 4.
Ingredients:
4 oven-ready lasagna noodles
3/4 c fine dry bread crumbs
1 tsp Italian seasoning
1/4 tsp salt
1/8 tsp pepper
2 eggs
1 medium eggplant, peeled and cut in 1/2 inch slices
2 Tbsp olive oil
2 c mozzarella cheese, shredded (6 oz)
2 c marinara sauce or vegetarian spaghetti sauce
2 Tbsp Parmesan cheese, grated or shredded
Directions:
Place bread crumbs, Italian seasoning, salt, and pepper in a shallow bowl. Blend well.
In another shallow bowl, beat eggs with 2 tablespoons of water.
Dip eggplant into egg mixture, then in crumbs.
In a large skillet on a medium low setting, heat one tablespoon of the olive oil. Working in two batches, cook half the eggplant until lightly browned on both sides. (The eggplant need not be fully cooked through at this point.) Repeat with remaining oil and eggplant.
Preheat oven to 350 degrees F.
In an 11 x 7 inch or 8x 8 inch pan, layer 2 noodles, breaking the pasta sheets as needed. Next layer half the eggplant slices, half the marinara sauce, then half the mozzarella cheese.
Repeat layers. Sprinkle with Parmesan cheese and bake 30 minutes, uncovered. Serve hot.