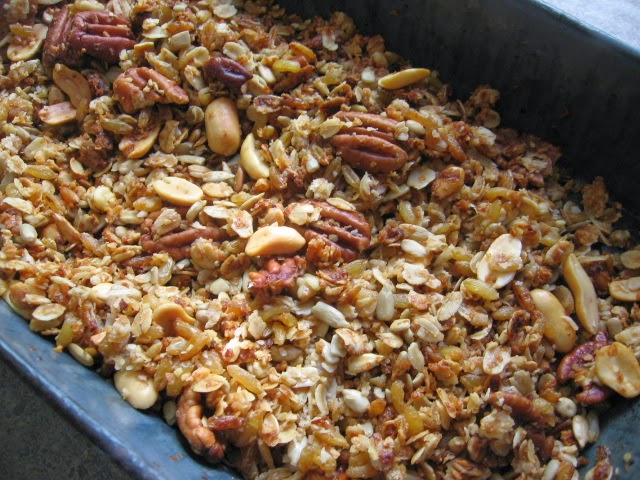 I like to pump up the protein in our granola with wheat germ and nuts. Mildly sweet, this honeyed breakfast treat is great for snacks too!
Makes about 6-7 cups.
Ingredients:
3 c old fashioned oats
1 c raw sunflower seeds
1 c raw wheat germ
1 c unsweetened shredded coconut
1 c mixed nuts
1/2 c honey
1/2 c vegetable oil
1 Tbsp vanilla extract
Directions:
Preheat oven to 300 degrees F and oil 2 large baking sheets or pans.
In a large bowl, stir together the oats, sunflower seeds, wheat germ, coconut, and nuts.
In a small saucepan, heat the oil and honey just until they are runny, but not simmering. Stir in vanilla.
Pour the honey mixture over the oat mixture and blend until everything is well coated.
Transfer to prepared baking sheets. Bake 30 minutes, remove from oven briefly to turn everything over with spatula.
Return to oven, switching top and bottom baking sheets; bake 20-30 minutes more, or until golden brown. Use spatula to flip and mix granola. Cool completely on baking sheet. Transfer to a tightly covered container.