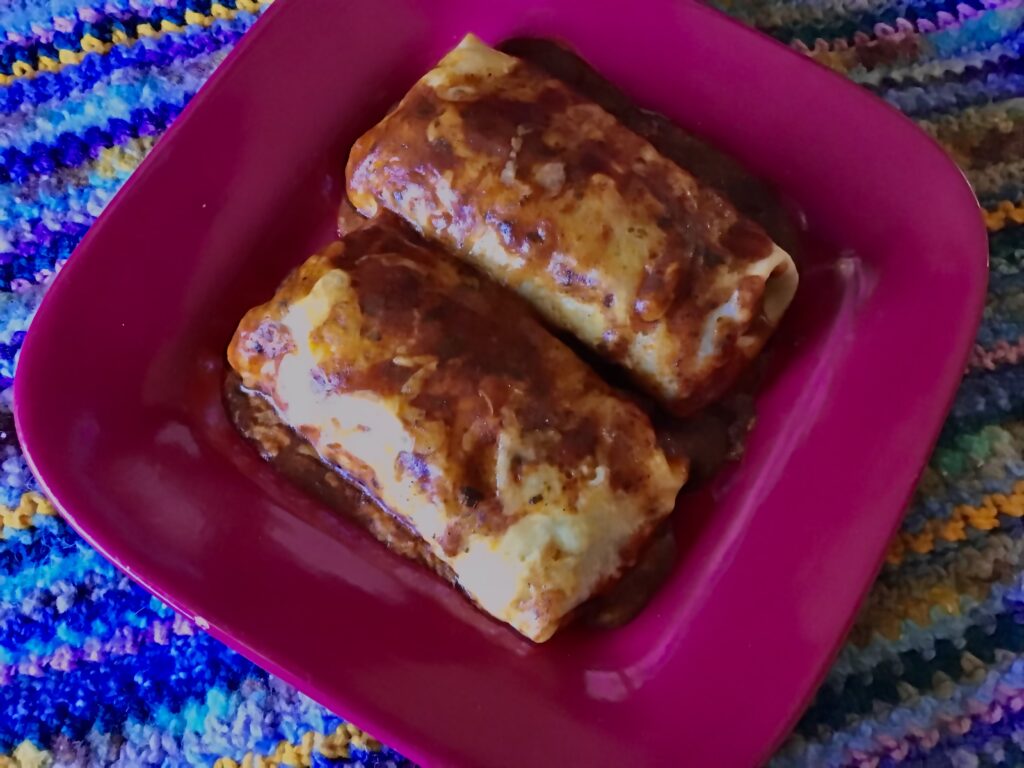 Makes 6 medium enchiladas.
Ingredients:
1 Tbsp olive oil
2 c finely diced (1/4″) sweet potatoes
1 small onion, finely chopped
1 clove garlic, minced
1 jalapeno pepper, de-seeded, minced (or 1/4 tsp cayenne)
1/2 Tbsp chili powder (mild)
1/4 tsp ground cumin
1/2 tsp salt
1 1/2 c cooked black beans, rinsed, drained well
2 c enchilada sauce, store bought or homemade
6 (8-10″) flour tortillas
2 c shredded mild cheddar cheese
Directions:
Preheat oven to 375 degrees F.
In a large skillet over medium heat, warm the olive oil. Add sweet potatoes; Cook, stirring frequently for 7 minutes or until tender and browned a bit.
Add onion, jalapeno, garlic, chili powder, cumin and salt; saute one minute.
Remove from heat and stir in the beans.
Place half the enchilada sauce in the bottom of an 11 x 7 x 2 inch baking dish.
Scoop one-sixth of the bean mixture on one of the tortillas. Roll up and place in the sauced baking dish. Repeat with remaining filling and tortillas.
Spread remaining enchilada sauce on top. Scatter the cheese evenly over all.
Cover tightly with foil and bake 15 minutes. Serve hot, with sour cream if desired.