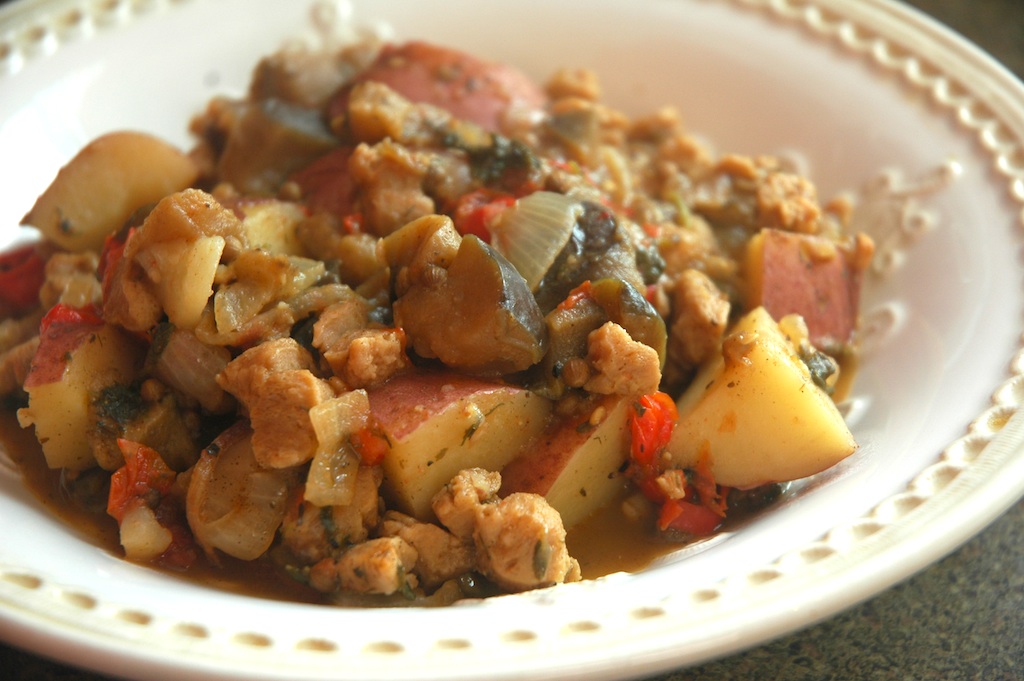 This is my Americanized, vegan version of "Chanakhi", a traditional Russian Lamb and Eggplant Stew. Use plain, chicken or beef flavored soya chunks (TVP). This stew has a wonderful combination of spices.
Serves 3-4.
Ingredients:
3 1/2 c hot water
2 Tbsp beef style broth mix
1 c soya chunks (TVP or TSP**)
1 Tbsp vegetable oil
1 medium onion, sliced
1 medium bell pepper, chopped
2 cloves garlic, crushed
1 medium eggplant, unpeeled, cubed
3 plum tomatoes, chopped
2 red waxy potatoes, cubed
1/4 c cilantro, chopped
1/2 tsp coriander seeds
1/2 tsp ground fenugreek seeds
1/4 tsp each: basil, savory and dill
1 tsp salt
1/4 tsp each: black pepper and cayenne
Directions:
In a medium bowl, whisk together the hot water and broth mix. Soak the soya chunks in this mixture for 15 minutes.
Preheat oven to 350 degrees F.
In a large oven-proof pot, heat the oil on medium. Add the onion and peppers and saute 5 minutes. Add garlic; saute another minute.
Add the soya chunks with their soaking broth, the eggplant, tomatoes, potatoes, cilantro, coriander seeds, fenugreek, basil, savory, dill, salt, black pepper and cayenne. Stir to blend well.
Cover tightly and bake 1 hour. Serve hot with whole grain bread.
**TVP stands for textured vegetable protein. TSP stands for textured soy protein. Both are names for soya protein.