Mexican cheeses are excellent in dishes such as this baked penne rigate casserole. Queso Fresco Cremoso is similar to Italian ricotta cheese. No pre-cooking is needed for the pasta!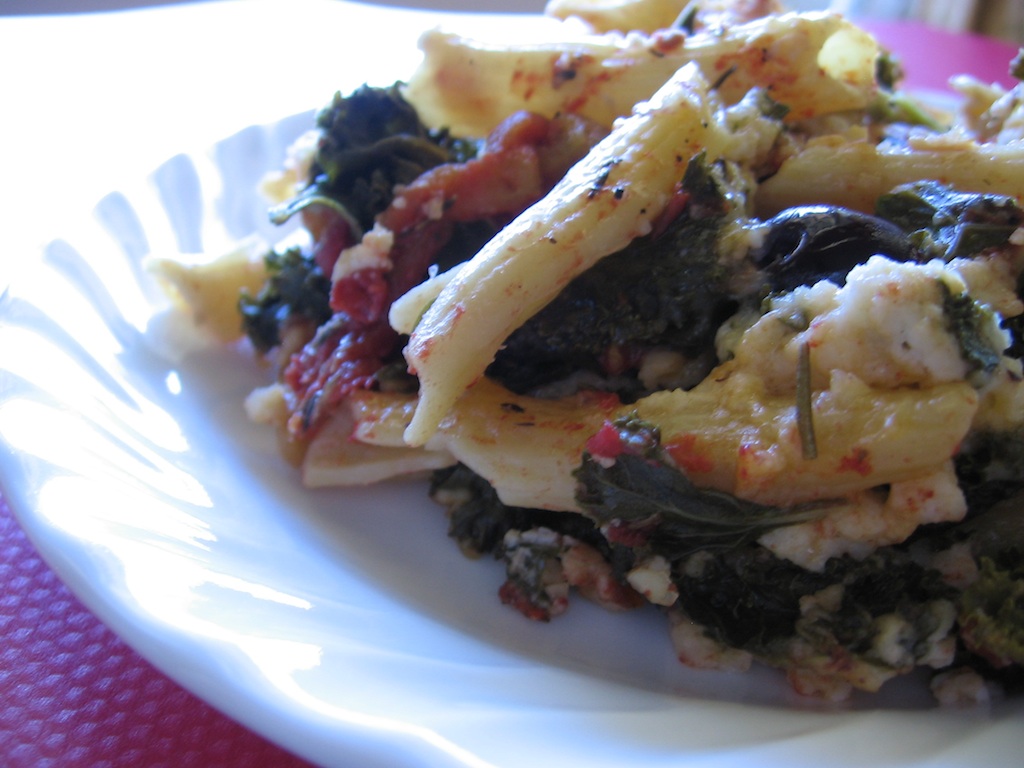 Serves 4-5.
Ingredients:
1-28 oz can whole tomatoes, chopped with liquid
8 oz uncooked penne regate pasta
6 c fresh kale, de-stemmed and chopped
1 tsp Herbes de Provence
1/2 tsp sea salt
1/4 tsp pepper
1/2 c pitted kalamata olives, chopped
12 oz whole milk Queso Fresco Cremoso or ricotta cheese
2 c shredded cheddar cheese
1 c sour cream
Directions:
Preheat the oven to 375 degrees F and oil a 13 x 9 x 2 inch baking dish.
Place half of the tomatoes w/liquid in the bottom of the baking dish. Evenly spread the uncooked pasta over the tomatoes.
Evenly place all of the kale on top of the pasta and evenly sprinkle it with the Herbes de Provence, sea salt, pepper, half of the olives, and the remaining tomatoes w/liquid.
In a medium bowl, combine the Queso Fresco Cremoso, cheddar cheese, and sour cream. Spoon it in dollops over the casserole, spreading it evenly, though not necessarily covering every bit. Sprinkle with the remaining olives.
Tightly cover the casserole with aluminum foil and bake for 45 minutes. Serve hot with a salad.