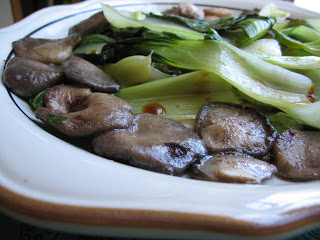 The King Oyster Mushrooms, as seasoned in this Grace Carrin recipe, taste very much like sea scallops. Check out the Grace Carrin facebook page for more great vegan tips and links.
Serves 2-3.
Ingredients:
1 Tbsp butter
1 Tbsp vegetable oil
6 oz king oyster mushrooms, cut into discs
1/8 tsp garlic powder
1/4 tsp dulse granules (or to taste)
1/4 c water
3 baby bok choy heads, pulled apart
1 Tbsp classic stir fry sauce
Directions:
In a large skillet over medium low heat, melt the butter in the oil. Add the oyster mushroom discs and saute them about 5 minutes. Remove with a slotted spoon to a holding bowl. Sprinkle with garlic powder and dulse; toss well, and cover to keep warm.
In the same skillet, using the residual oil, add the water and baby bok choy. Cover and cook about 7 minutes, or until tender. Place in center of platter. Surround with oyster mushrooms. Sprinkle or spoon stir fry sauce on the bok choy. Serve hot.