Peanuts and tofu are inexpensive forms of protein, but you will not feel deprived with this dish. This Asian-inspired meal is delicious, satisfying, and complete.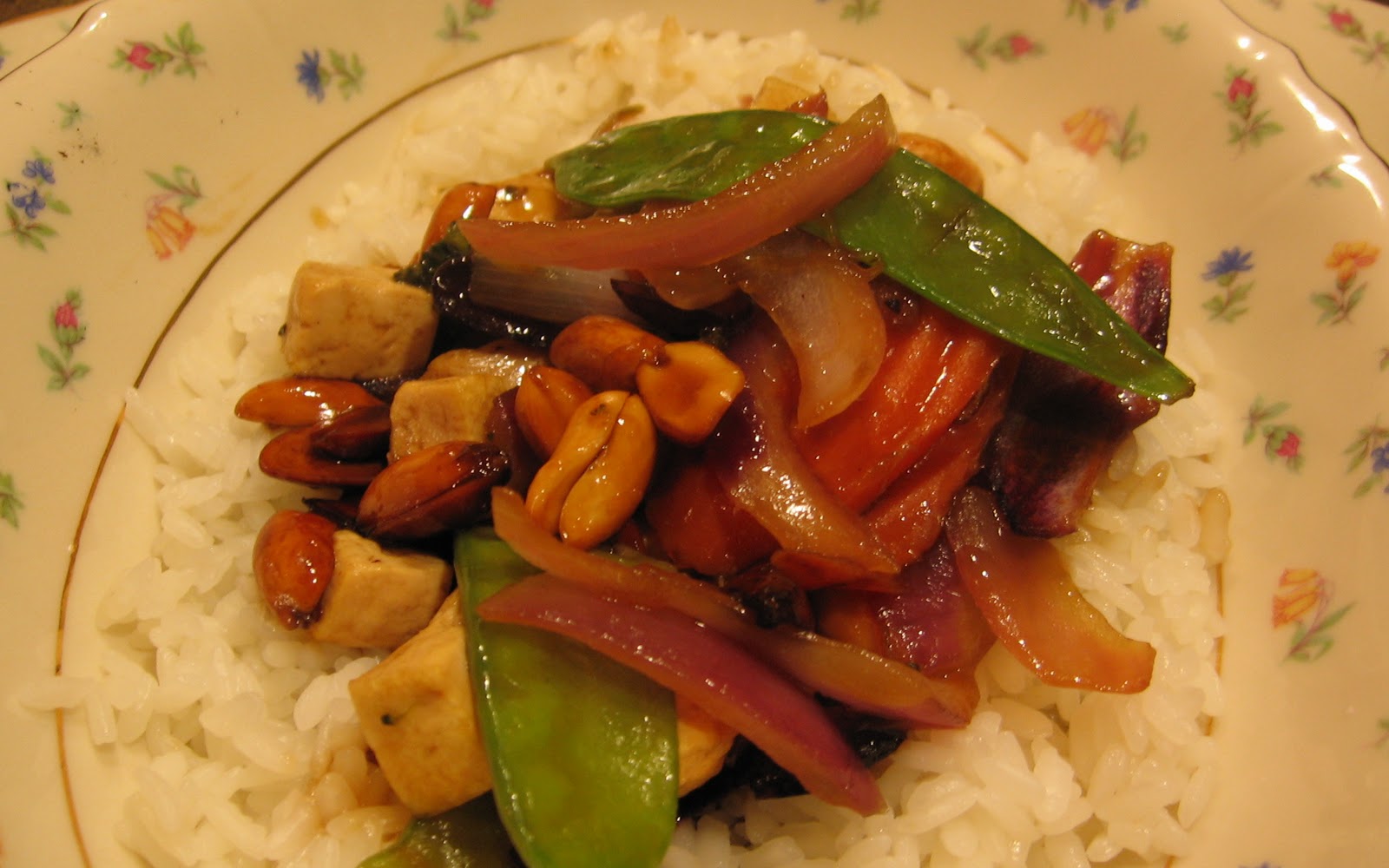 Serves 3-4.
Ingredients:
Tofu:
8 oz extra firm tofu, cubed
3 c stir fry vegetables (broccoli, carrots, snow peas, etc.)
2 Tbsp vegetable oil
1 tsp toasted sesame seed oil (optional)
1/2 c unsalted peanuts, skinned
2 dry red chilies, whole
1 medium red onion, sliced
Sauce:
4 Tbsp vegetable stock
1 Tbsp corn starch
4 Tbsp soy sauce
2 Tbsp honey
2 tsp rice wine vinegar
1/8 tsp black pepper
Directions:
Place a medium pot of salted water to boil. Add the cubed tofu to water. Let the tofu remain in the water until it returns to a boil and the tofu cubes rise to the top. Remove with a slotted spoon to a holding dish, keeping the water boiling in the pot. Drop the stir fry vegetables into the pot. Bring back to a boil and simmer for 3-4 minutes, or until tender. Drain and place in a separate holding dish.
In a small bowl, mix all sauce ingredients; blend well and set aside.
In a wok or large skillet, heat the vegetable oil and sesame seed oil on medium. Add the chiles and stir-fry them a few seconds, or until they turn brown; discard. In the same oil, stir-fry the peanuts about one minute, or until they are light brown; remove with a slotted spoon to a large tray or baking sheet lined with clean toweling.
In the same oil, stir-fry the tofu cubes. Let the tofu cook until golden brown on all sides, about 2-3 minutes. Remove to the towel-lined tray.
Add the red onions and the stir fry vegetables to the wok or skillet. Saute about 2 minutes. Stir the sauce again and add it to the wok; stir until thick. Add the tofu and peanuts and cook only long enough to warm everything. Serve hot on a bed of rice.