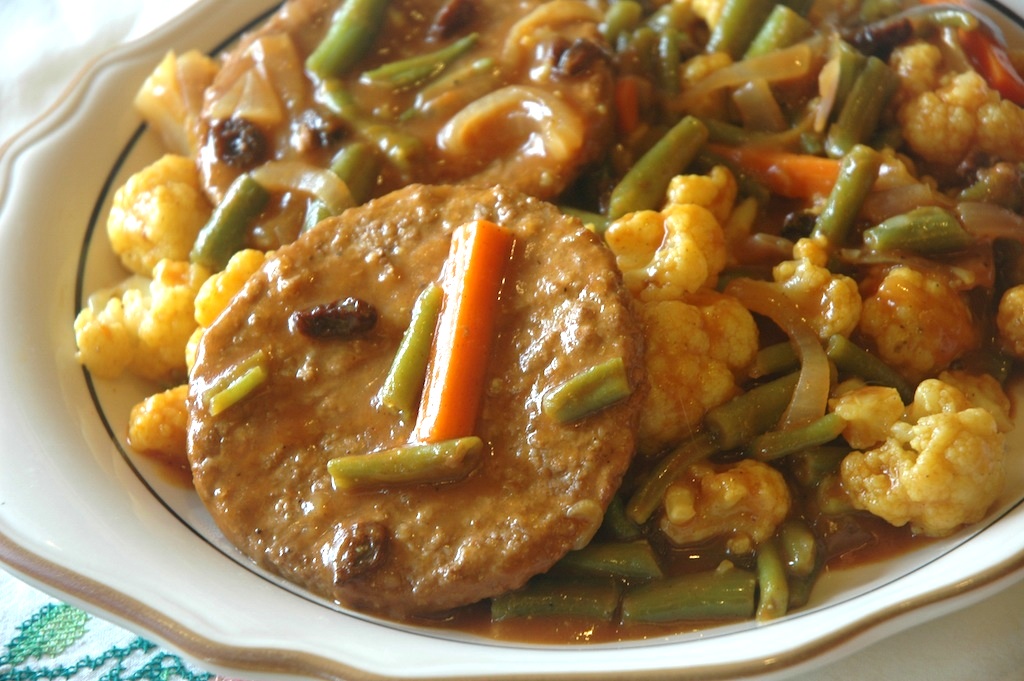 Exotic flavors combine in this Moroccan cauliflower dish. I use Worthington Prime Stakes for a vegetarian version that is meaty and high in protein. Serves 4. Prep: 15 minutes. Cooking: 15 minutes. Total time: 30 minutes.
Ingredients:
1 1/2 c water
1/4 c butter or buttery spread
1 medium head cauliflower, cut in florets
2 carrots, peeled and cut in 2″ strips
1 (12 oz) pkg frozen cut green beans
1 medium red onion, cut in semi-circles
1 (13.3 oz) can coconut milk
2 Tbsp corn starch
1/4 c tomato paste
2 tsp curry powder
1/4 tsp cinnamon
1 tsp sea salt, or to taste
1/4 tsp freshly ground black pepper
1/2 c raisins
1 (13 oz) can Worthington Prime Stakes
Directions:
In a large heavy, lidded pot, place the water, butter, cauliflower, carrot strips, frozen green beans, and onion. Bring to a boil over medium heat.
Reduce heat to a simmer and cover. Cook 5 minutes, or until tender and much of the water has evaporated.
Place the coconut milk in a medium bowl and whisk in the corn starch, tomato paste, curry powder, cinnamon, salt and pepper until smooth.
Add coconut milk mixture to the pot of vegetables along with the raisins. Cook over medium heat about 3 minutes, stirring constantly until thickened.
Place the Worthington Prime Stakes with their gravy on top of the curry. Gently stir the gravy into the sauce.
Cover and simmer 3 minutes more, or until heated through. Serve hot.
*I have used Prime Stakes for years and my family enjoys it. Recently, Atlantic Natural Foods sent me samples of their line of vegetarian meat substitutes, and I have used them in this recipe.