Split peas are available almost everywhere and they are often used in soups. However, these high protein pulses are excellent in many other dishes, especially Indian and Pakistani dishes (in which they are called 'dal' or 'daal' or 'dahl). This vegan Creole dish makes an inexpensive and spicy family meal.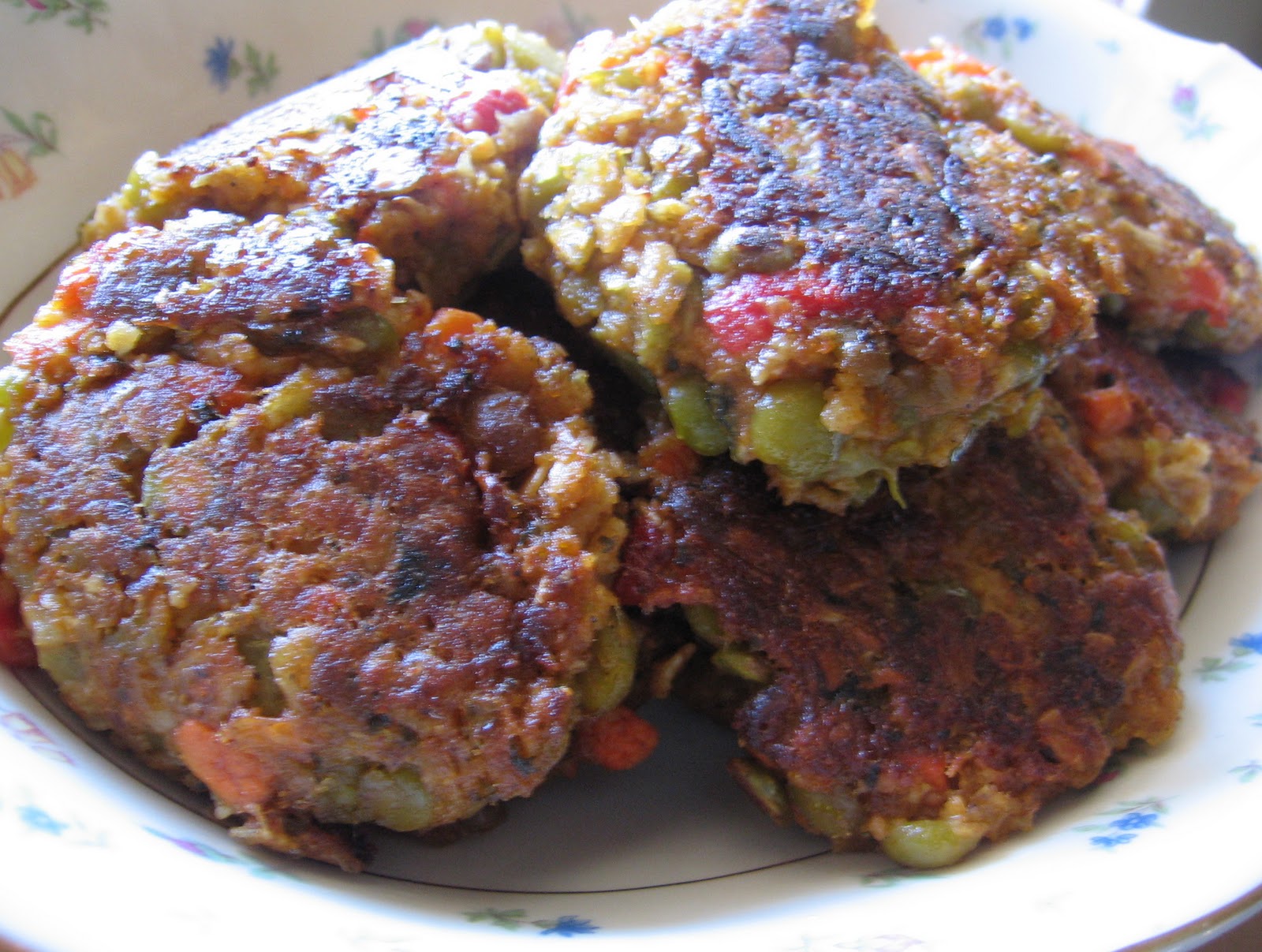 Makes 12 small patties.
Ingredients:
3 Tbsp vegetable oil (divided use)
1/2 medium onion, finely chopped
1 stalk celery, finely chopped
1 large carrot, peeled and finely chopped
1/2 red or green bell pepper, finely chopped
2 cloves garlic, minced
3 c water
1/2 c tomato puree or tomato sauce
1/2 c split peas, rinsed and drained
2 tsp dry parsley (or 2 Tbsp fresh, minced parsley)
1/4 tsp creole seasoning
1/2 tsp gumbo ffilé or gumbo powder
1 c old-fashioned oats, dry
2 oz fresh whole wheat bread, crumbed (about 3/4 cup)
Directions:
In a medium saucepan over medium low, heat one tablespoon of the oil and saute the onion, celery, carrot, and bell pepper for about 2 minutes. Add the garlic and saute another 30 seconds.
Pour in the water, tomato puree, split peas, parsley, creole seasoning, and gumbo ffilé. Bring to a boil, lower heat, cover, and simmer for 50 minutes, or until the split peas and carrots are just tender.
Add the oats and whole wheat bread crumbs. Blend well. Using a potato masher or immersion blender, partially puree this mixture to bind it, while leaving the texture a bit chunky. Cool, and then chill one hour in the refrigerator.
In a large skillet over medium heat, pour the remaining two tablespoons of oil and bring to shimmering. With damp, clean hands, form the split pea mixture into twelve 2-inch patties and fry about 4 minutes on each side or until deep brown and set up. Be sure to turn your skillet a couple of times to get even heat. Serve hot with potatoes or long grain rice. A side of creole sauce may be served with this dish.