This easy vegetarian dish can be made with store-bought enchilada sauce, or with our version of Homemade Enchilada Sauce. It can be assembled ahead of time, covered tightly and refrigerated until dinner.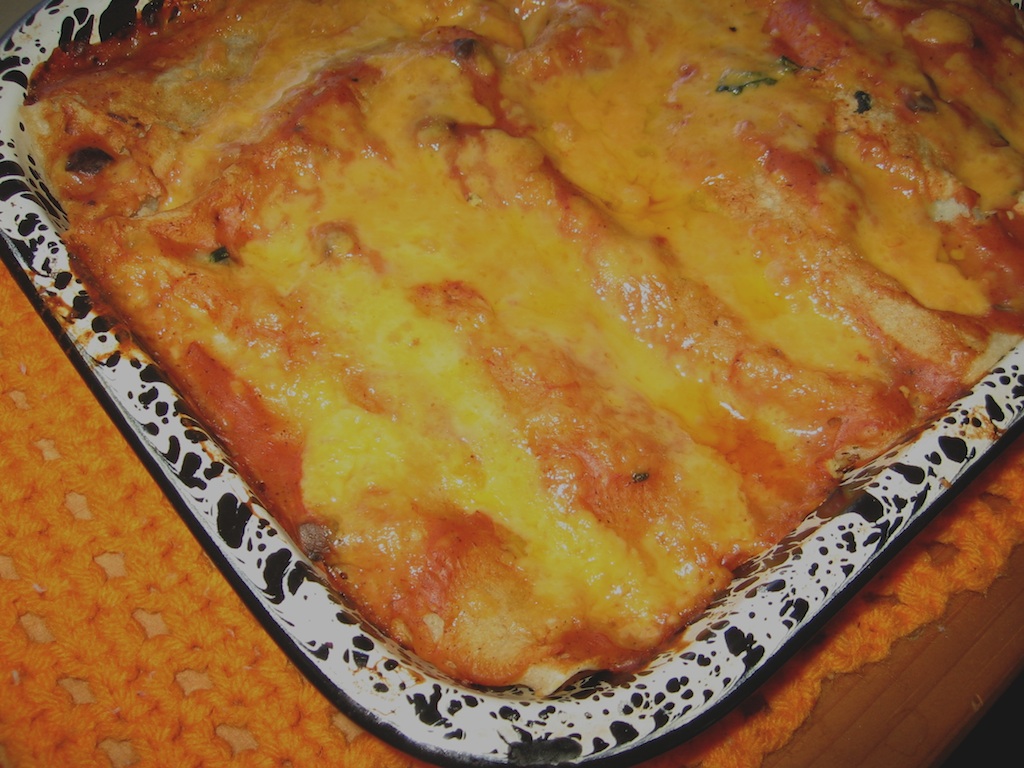 Serves 6.
Ingredients:
3 Tbsp vegetable oil
15 (5 inch) corn tortillas
1 c enchilada sauce
1-10 oz can condensed cream of mushroom soup, undiluted
8 oz mushrooms, chopped
2 c fresh turnip greens, finely chopped (or spinach)
2 cloves garlic, minced
1 jalapeno pepper, seeded and minced (optional)
1 tsp dry oregano
1 tsp dry cilantro
1/4 tsp salt
8 oz firm tofu, crumbled (about 1 cup)
2 c cheddar cheese or other melting cheese, shredded
Directions:
In a large skillet, fry each tortilla in a scant teaspoon of oil, until softened on both sides. Put hot tortillas into a covered dish to keep warm as you continue with the recipe.
In the same skillet, add a bit more oil and saute mushrooms and turnip greens 3 minutes. Add garlic, jalapeno, oregano, cilantro, and salt; saute another minute. Add tofu and blend.
Preheat oven to 350 degrees F.
In a medium bowl, combine enchilada sauce and cream of mushroom soup.
Ladle a few tablespoons of sauce into the bottom of an 13 x 9 x 2 inch baking pan.
Roll enchiladas, filling each with a heaping tablespoon of the skillet mix and a rounded teaspoon of shredded cheese. Fit them in the baking pan seam sides down; cover with remaining sauce and cheese. Bake uncovered for 15-18 minutes. Serve hot with sour cream.