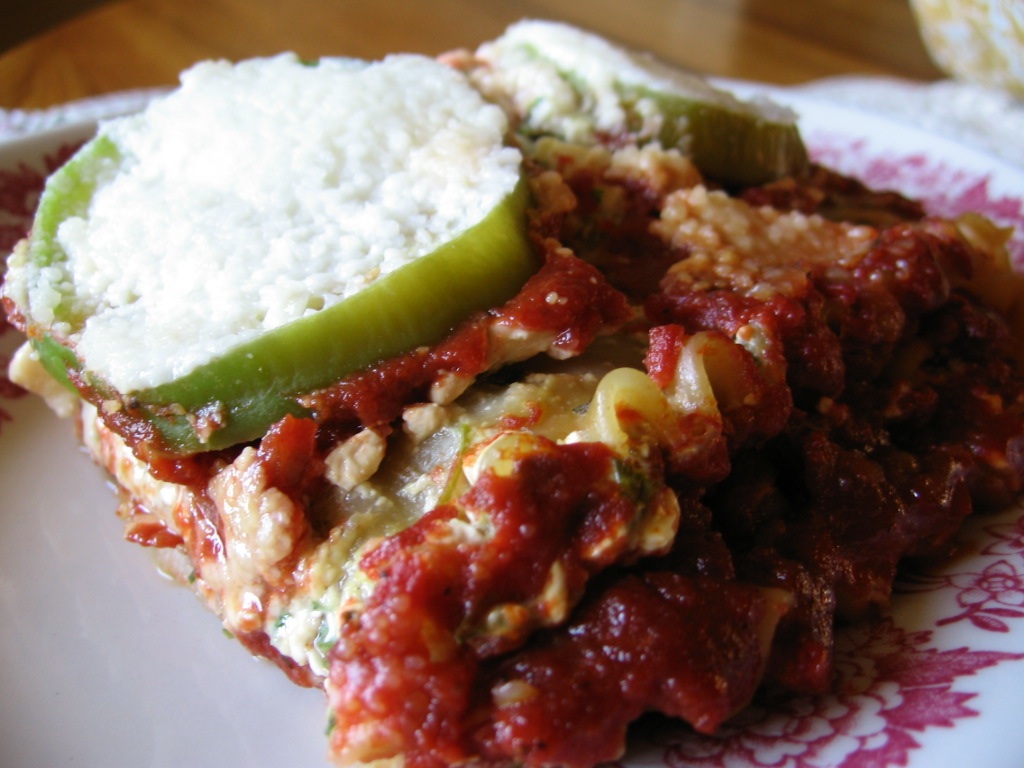 The tartness of the tomatillos compliment the Italian cheeses and spices in this dish. It's delightful!
Serves 6-8.
Ingredients:
Sauce:
1 Tbsp olive oil
1/2 medium onion, minced
2 cloves garlic, minced
1 1/2 tsp Italian herb blend
3/4 c water
1-6oz can tomato paste
1-15 oz can tomato sauce
1 Tbsp brown sugar, packed
1/2 tsp salt
1/4 tsp pepper
Other Ingredients:
2 c ricotta, cottage cheese, or soft tofu (mashed)
2 eggs, lightly beaten
2 Tbsp fresh mint, minced
2 Tbsp fresh parsley, minced
1 lb fresh tomatillos, peeled, thinly sliced
8 oz shredded mozzarella cheese
12 lasagna oven-ready noodles
3-4 Tbsp grated Parmesan cheese
Directions:
Sauce:
In a medium saucepan over medium heat, warm the olive oil. Add onions and saute 2-3 minutes.
Stir in garlic and Italian herbs; saute another half-minute.
Add water, tomato paste, tomato sauce, brown sugar, salt and pepper. Bring to a simmer, reduce heat, and simmer 15 minutes. Remove from heat and set aside.
Remaining Instructions:
Preheat oven to 375 degrees F and lightly oil a 13 x 9 x 2 inch lasagna pan.
In a medium bowl, blend the ricotta, eggs, mint and parsley.
Ladle one-third of the sauce in the bottom of the pan and spread evenly.
Add three lasagna noodles side by side, one-third of the mozzarella, and another third of the sauce.
Next add one-third of the sliced tomatillos and arrange them evenly. Add three more lasagna noodles, one-third of the ricotta mixture, and three more lasagna noodles.
Sprinkle on another third of the mozzarella, the remaining sauce, and another third of the tomatillos.
Place the final three lasagna noodles on top and spread with the final third of the ricotta mixture, the remaining mozzarella, and the remaining tomatillos.
Sprinkle heavily with Parmesan cheese and cover with oiled tin foil. Bake 30 minutes covered. Remove the tin foil and bake another 15 minutes.
Allow to stand a few minutes before slicing and serving hot.