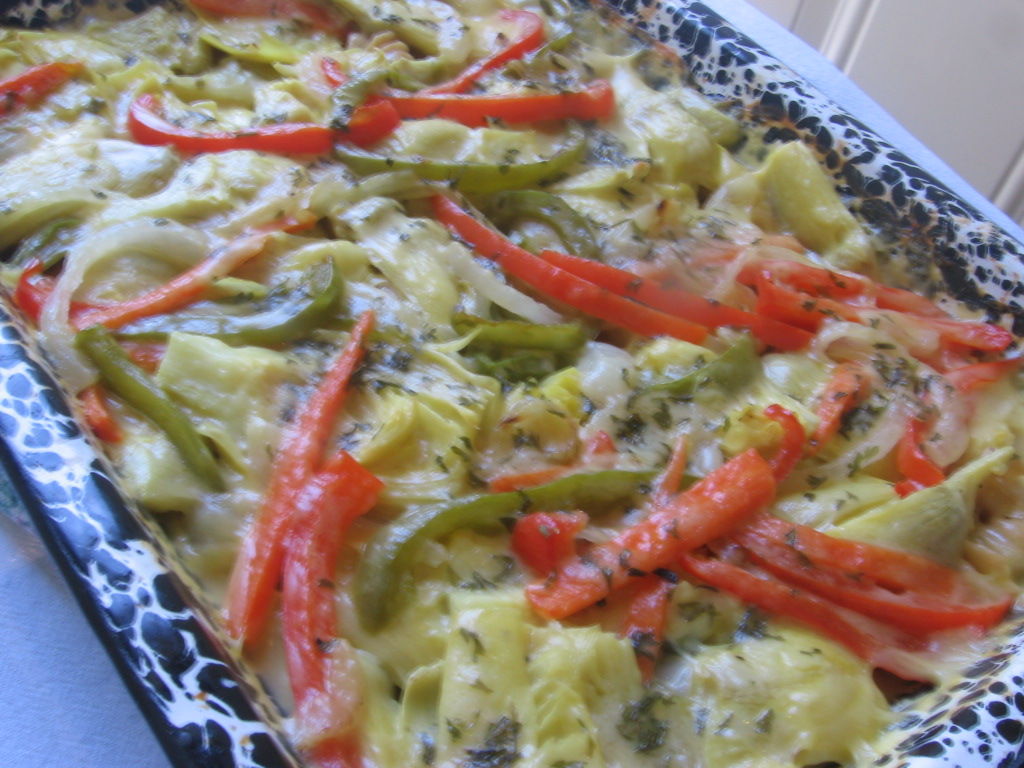 You may notice this casserole is very mildly seasoned. This is so that the mild flavors of the artichokes come through. This is a lovely dish that can be assembled ahead of time, refrigerated, and then brought out for baking close to dinner time. Because of the cheese and milk, this dish is substantial enough as a main course, or can be serve as a side dish.
Serves 3-4.
Ingredients:
White Sauce:
3 Tbsp margarine or butter
3 Tbsp all-purpose flour
1/4 tsp salt
1/8 tsp black pepper
3/4 c vegetarian chicken-style broth
1/2 c milk
Casserole:
1/2 Tbsp butter or margarine
1 medium carrot, julienned (2 x 1/4 x 1/4?)
1/2 medium green pepper, julienned
1/2 medium red or yellow pepper, julienned
1/2 medium onion, sliced in half-moons
1/2 c milk
1/4 c shredded sharp cheddar cheese
1 1/2 c cooked whole grain Rotini pasta (use 1 c dry and follow directions on box)
2 -14 oz. cans artichoke hearts in water, rinsed, drained, and quartered
2 Tbsp grated Parmesan cheese
1 tsp dried parsley flakes
Directions:
For Sauce:
Melt margarine in medium saucepan over medium heat.
Stir in flour, salt and pepper. Cook until mixture is smooth and bubbly, stirring constantly.
Gradually add milk and chicken-style broth, and cook stirring constantly with a whisk until mixture boils and thickens.
Stir in the remaining 1/2 cup of milk and the cheddar cheese.
For the Casserole:
Preheat oven to 350 F. Butter an 11? x 7? x 2? baking dish.
Put the pasta in the bottom of the dish and then add an even layer of artichokes.
In large skillet over medium high heat, cook and stir carrots, peppers, and onions in 1/2 Tbsp butter until barely tender. Stir them into the white sauce.
Pour the sauce over the artichokes.
Sprinkle with grated Parmesan and parsley.
Bake covered for 25 minutes.
Uncover and bake an additional 10-15 minutes or until casserole is thoroughly heated and begins to brown.