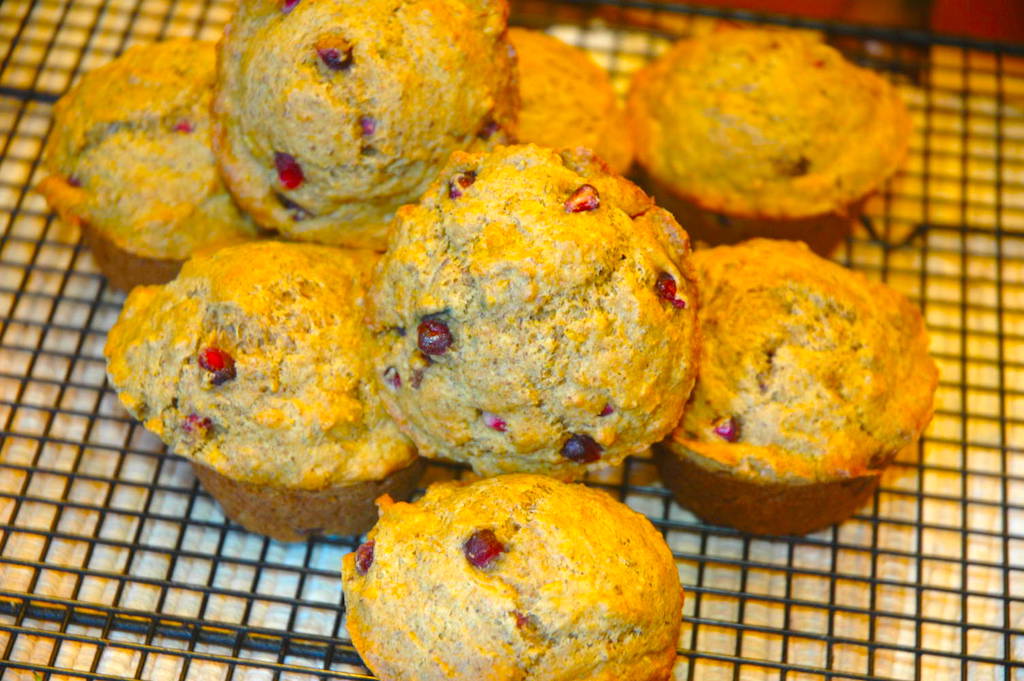 Pomegranate seeds, also called pomegranate berries, are loaded with nutrition and sweetness. They blend well with the flax seeds in this recipe, and the muffins stay moist and delicious for a few days after baking.
Makes 8 medium muffins.
Ingredients:
1 c all purpose flour
1/2 c whole wheat flour
1/4 c dark brown sugar, packed
1 tsp baking powder
1/2 tsp baking soda
1/4 tsp salt
1/2 tsp cinnamon
1/4 tsp nutmeg
1/4 tsp ginger
1/8 tsp cloves
1 egg
1/2 c pumpkin puree (or butternut squash)
1/2 c milk
2 Tbsp vegetable oil
1/2 c pomegranate berries with seeds
1/4 c flax seed meal
Directions:
Preheat oven to 375 degrees F, and butter an 8-well muffin pan.
In a large bowl, whisk together the all purpose flour, whole wheat flour, brown sugar, baking powder, baking soda, salt, cinnamon, nutmeg, ginger, and cloves.
In a medium bowl, lightly beat the egg. Add pumpkin, milk, and oil. Beat until well-combined.
Add wet ingredients to dry ingredients, staring just until incorporated.
Fold in the pomegranate berries and flax seed meal.
Spoon batter into prepared muffin wells and smooth tops.
Bake 20 minutes, or until golden brown. Cool in pan 10 minutes, before turning out on wire rack to cool completely.