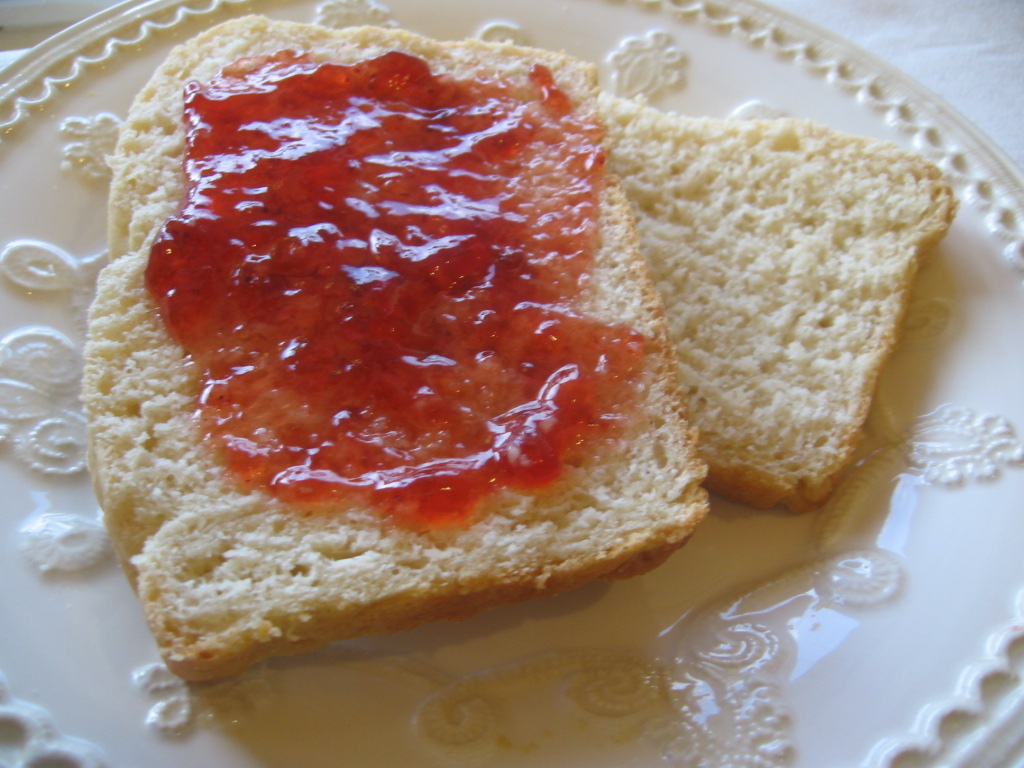 This makes a great sandwich bread. It is moist and fluffy and it slices well. You also may serve it as a dinner bread with a large salad, soup, or stew.
Makes 1 large loaf.
Ingredients:
1 1/2 c warm water (about 110 degrees F)
1 1/2 tsp dry yeast
1 1/2 tsp sugar
1/2 c buttermilk
1 tsp salt
4 c bread flour
1 tsp baking powder
1/2 Tbsp margarine or butter
Directions:
In a large bowl, blend the warm water, yeast, and sugar and allow to stand 10 minutes.
Heat the buttermilk just until it curdles a bit.
Add the warm buttermilk and salt to the yeast mixture.
With a wooden spoon, stir in 2 cups of the flour and the baking powder; mix about 50 strokes. Cover the batter with a clean tea towel and let rise in a warm, draft-free place for about 45 minutes, or until double.
Grease a large loaf pan (9 x 5 x 3 inches) with vegetable shortening or softened butter.
Place a sheet of parchment paper or wax paper (cut to size) in the bottom of the pan and grease the paper as well.
When the batter has doubled, gradually add as much of the remaining flour as is needed to make a soft dough.
Knead in the bowl about 3 minutes or until all the air bubbles are out and the dough is smooth and elastic.
Form into a loaf and place in the prepared pan, cover, and allow to rise 45 minutes or until doubled, preheating the oven to 350 degrees F during the last minutes.
Bake 40 minutes, or until golden brown and hollow-sounding when tapped with your fingernails.
Turn out onto a cooling rack, remove the parchment paper, and spread a thin coat of butter or margarine on all sides to create a soft crust.
Allow to cool at least 30 minutes before slicing.
When completely cool, place in a sealed paper or plastic bag.