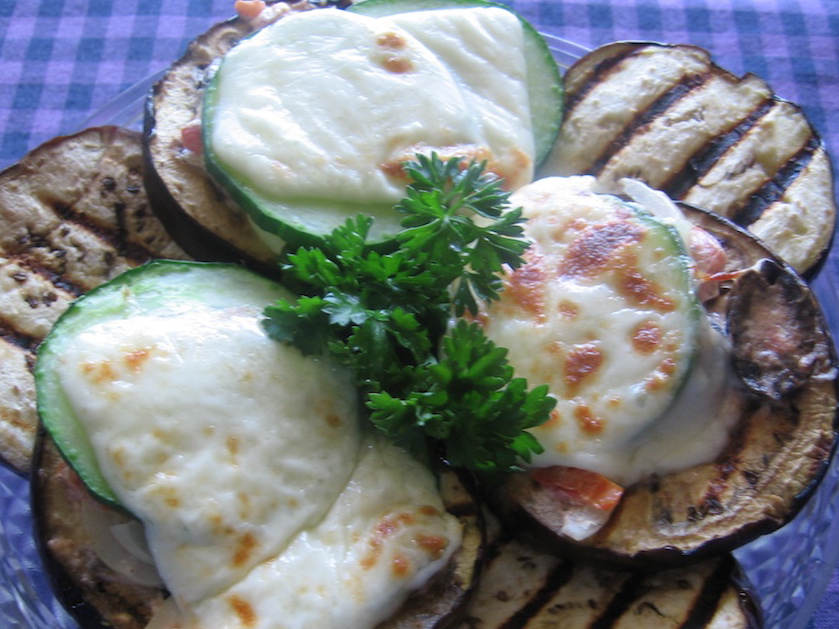 Your dinner will be off to a very special start with this recipe. If desired, make extra grilled eggplant slices and intersperse them with the Muffuletta Appetizer. This makes a lovely presentation!
Makes about 14-16 appetizers.
Ingredients:
1 medium globe eggplant, unpeeled
1/2 tsp salt
2-3 Tbsp grapeseed oil or olive oil
1 c ripe cured black olives
1 c tomatoes, finely chopped
1/2 tsp dry oregano
4 Tbsp cream cheese
1/2 medium sweet onion, finely sliced
1 English or Persian cucumber, unpeeled and thinly sliced
8 oz mozzarella cheese, thinly sliced
Directions:
Cut the eggplant crosswise in 1/3 inch slices. Sprinkle both sides with salt and place on a baking sheet or cutting board in a single layer. Cover with a sheet pan and place a heavy object on top to weight it down. Allow to stand 30-60 minutes.
Wipe excess salt and moisture off the eggplant. Brush a grill pan with a tablespoon of the oil, and place on medium high heat. Place about half of the eggplant slices in the grill pan and cook each side about 3 minutes, or until the slices are pliable and there are nice grill marks on them. Remove to a holding plate and repeat 1 or 2 more times with the remainder of the eggplant and oil.
Pit the olives and place them in a small bowl with the tomatoes, oregano and cream cheese. Stir and blend until well-incorporated. Place a rounded tablespoon or so of the olive mixture on each slice of eggplant and top with onion, cucumber and mozzarella. Place under a broiler for a couple of minutes, or until the mozzarella melts and begins to brown. Serve warm on a platter.